Before you read this case study try this:
Google "burning brain"....
Our site should end up within the first 5 of the first page!
Why are we showing off? To brag? No! To share a secret technique for search engine optimization that really works. But it takes about a year. Relatively speaking, it wasn't expensive either. In fact the only cost was our monthly fee to Constant Contact...which we were spending for newsletter management. So it really just double-downed the expense! Win-win baby.
When we first opened shop, last February, if we googled "burnng brain" we didn't show up until the fifth or sixth page. It was too vague. But if we googled "burning brain creative" we showed up somewhere on the first page.
To achieve this high profile result we did three things in concert:
Monthly electronic newsletter
Monthly web site content updates and additions
Lots of linkage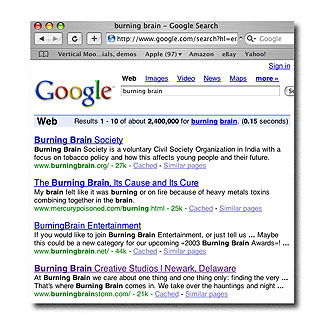 The simple fact is that no matter how clever everyone tries to be in cracking the "Google code" to try and beat their system, they will always be changing it. But the code that you might be chasing will always be a moving target.
But if you remember the basic fundamental component of why Google exists....finding things that are most relevant to your search. You can win with time and patience. No special techniques or expensive widgets necessary. If you focus on the purpose and match your techniques to that, you will have a stationary target to hit.
How? Fresh content, relevant content and shared links. It's that simple.
The hard part is motivating yourself to keep the content fresh and having things to say. How do we do it? We spend money on Constant Contact. That monthly fee forces us to make sure we get a newsletter out most months.
Here's what happens....when you send a newsletter out you need articles. If you have articles that are going to be on your site you should have new case studies and such that talk about what you've been doing for clients. If you archive your articles you might as well archive your newsletters too.
With this simple approach, once a month, your web site gets a whole new heap of content. Further, if you use templates and have things that will change on every single page in your site...like my three boxes down the right (just launched, case study, in progress) you will put something fresh on every page. With only one change the template will touch everything as it updates.
Google, at it's most basic level, is looking for fresh, related and linked content to match with your search. Putting new articles, newsletters, case studies and hitting every page does this.
If you link out to related or researched terms you are getting your linkage set...and of course if you can find "friendly" sites that will reciprocate you win!
Hope this helps. If you're confused or want us to help put a plan together for you...we will. Good luck.