Case Study: Leisure Spas
Business unit and product branding launch.
Leisure Fitness is getting into the spa business. Burning Brain
was engaged to help at every level. This is a fully integrated
marketing and advertising campaign that includes a brand and
identity launch along with print advertising, POP signage, environmental graphics, swag, product graphics, splash page
and web site.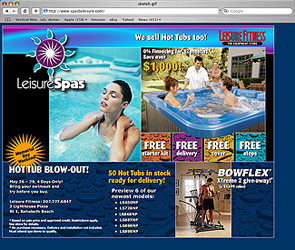 The ultimage goal will be to launch several stores in the area that
focus on the soothing and hydrotherapeutic value of spa treatment. The goal will be to bring the spa home, to your own pace and world without sacrificing the health benefits. Escape to your home.
This project not only demonstrates Burning Brain's ability to do a
full agency engagement with deep thinking and sound solutions, it also demonstrates the speed with which Burning Brain can deliver a project. We were engaged three weeks prior to the Memorial Day Weekend launch at their Rehoboth store. The print adversising was due right away as well a result of publications' print run deadlines. Here is the print ad used to promote the weekend event: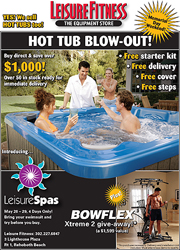 The first step was getting a logo done in three days that could be
sent to the hot tub manufacturer for placement on the product. Not only as a screen application, but also as an embossment into the plastic covers and the molded plastic tubs. Here is the skimmer lid that was produced by Custom Plastics:
Everything else fell into place after that. Now that the launch and tent sale is occurring we will move into phase two which will include permanent signage as well as upscale collateral design.